Safety, Stability & Self-Reliance
As 2016 comes to a close, we look back on the year and celebrate the power of transformation. YWCA of San Diego County helped more than 8,400 women, men, and children transform their lives through comprehensive housing and supportive programs.
This season, give the gift of safety, stability, and self-reliance with a tax-deductible contribution. Your ongoing generosity allows us to provide a critical lifeline to families in need of our comprehensive services that will enable them to overcome their challenges, build resiliency, and support them on their journey towards lasting independence.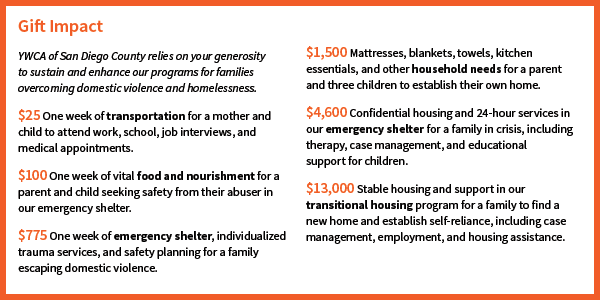 Program Impact
In our continued efforts to expand our diverse array of services for individuals and children overcoming domestic violence and homelessness, we launched a new Rapid Re-Housing program to bring new opportunities for homeless families to quickly secure permanent housing and build a foundation for self-sufficiency. Our annual Program Impact Report offers additional highlights from our residential programs and supportive services for the year ending June 30, 2016.