1 in 4 women and 1 in 7 men experience domestic violence in their lifetime.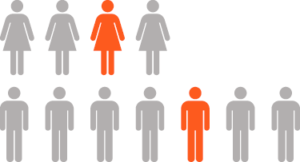 Fulfilling the complex and often life-threatening needs facing survivors in the community, our Becky's House® Domestic Violence Programs encompass a 24-hour crisis and information hotline, emergency shelter, transitional housing, legal support, and a full spectrum of integrated services.
The Vi McKinney Becky's House Shelter, a short-term emergency shelter, offers free services to women, men, and children in need of immediate protection from their abusers in a secure, confidential facility. Our longer-term Becky's House Transitional Housing program provides safe housing and family services for individuals and families in multiple apartment communities. In the program, clients focus on overcoming trauma, developing life skills, continuing their education, gaining or improving employment, increasing income, and obtaining permanent housing.
Additionally, staff attorneys and professional advocates provide low-income domestic violence survivors with free legal services on family law matters, including assistance with restraining orders, divorce, child custody, child and spousal support, and limited attorney representation. Mobile legal clinics are also available in underserved communities throughout San Diego County.
If you or someone you know needs help, call our 24-hour domestic violence hotline at 619.234.3164 or review resources online.
More than 9,100 individuals face homelessness in San Diego County on any given night and 62 percent go without shelter of any kind. In response to the critical community need, YWCA serves this vulnerable population through interim, transitional, and permanent housing, along with supportive services.
Cortez Hill Family Center provides interim housing and family services, up to 90 days, for low-income parents with children. Clients focus on securing permanent housing while stabilizing their family unit and leveraging resources.
Our Rapid Re-Housing Program serves individuals and families in our domestic violence and homeless emergency shelters, as well as limited clients from the community. The program offers temporary assistance with rent and security deposits, case management, housing support, and other family services to allow clients to quickly return to and maintain permanent housing.